Living (and eating) in color: Ko Hong, Koh Lao Lading and Ko Klang
Krabi Town (and province) is one of the most popular tourist beach destinations in Thailand,
Krabi Town (and province) is one of the most popular tourist beach destinations in Thailand, as the airports in both Krabi and Phuket are easy to access with short and cheap flights from Bangkok operating daily.
Krabi is relaxed and well known for its white-sand beaches and picturesque mountains-meets-the-sea photo-ops, but there a few lesser-known areas around Krabi that are worth visiting if you have the time.
[table][tr][td]
• Ko Hong
[/td]
[/tr]
[/table]
In the Thai language, the word 'hong' means 'room,' and Ko Hong is named this because, in the middle of the island, there is a "secret room" accessible by boat. It is similar in appearance to Maya Bay in Ko Phi Phi, except that it doesn't have much of a beach. Instead, people often come here and sunbathe on parked boats while observing the immense natural beauty of the bright blue sea, schools of fish, and tall limestone rocks towering above the bay.
The public beach area on Ko Hong is perfect for swimmers at all levels, including for children. The rock formations have created a serene bay that isn't affected by the fluctuating sea currents, and the water isn't very deep. The sea in this bay is also not full of the usual surprises known to cause injury in other places, such as jagged rocks. Instead, the substrate at this beach is mostly just sand with some occasional bits of coral floating about, and there are warning signs on the beach advising tourists to be vigilant about jellyfish stings.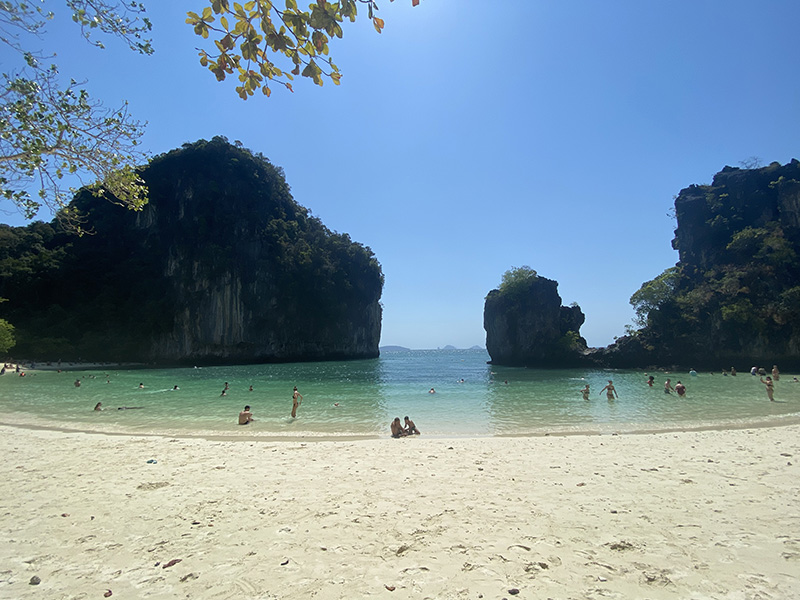 In total, Ko Hong also has one walking trail that takes about 15 minutes to complete but provides a charming view of the sea.
• Ko Lao Lading
Ko Lao Lading is about a 10-minute boat ride away from Ko Hong, and is similar in appearance but has a lot more shady space to relax in for the day. The first thing you'll see when you jump from the boat onto the shore in Ko Lao Lading is a giant swing amongst a naturally-occurring grove of coconut trees. This island also has two local food vendors and a sandbar that is sometimes there, and sometimes not- just depends on the tide during the time of your visit. In either case, walking (or swimming) about the island is best without shoes and without worry- it is truly a paradise worth taking in wholly.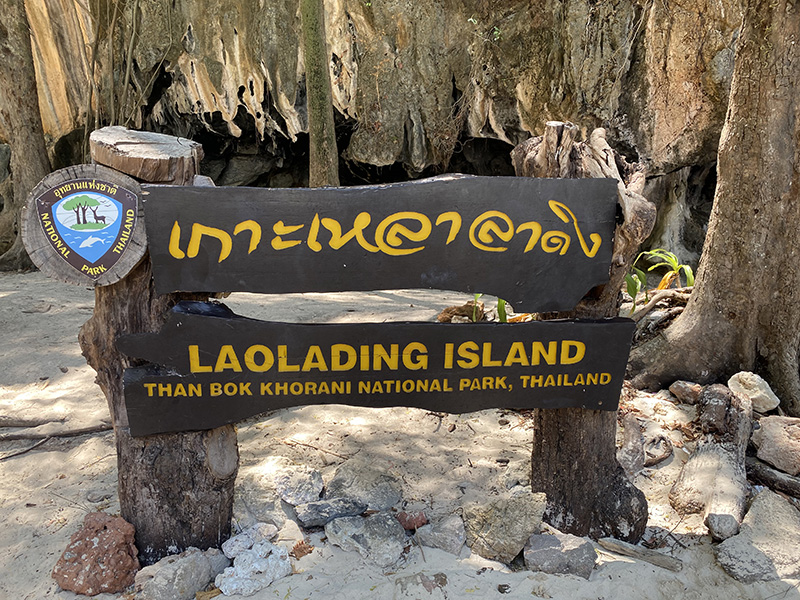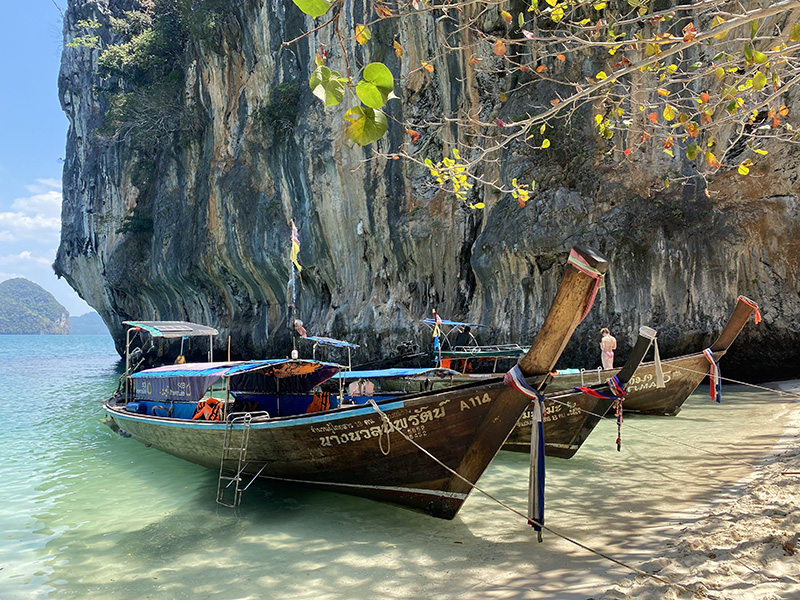 • Ko Klang
Of all of the islands surrounding Krabi, Ko Klang is the most colorful of all. Ko Klang is home to many permanent residents, most of whom are farmers and fishermen. The culture of Ko Klang is shaped by its location- many houses are built on stilts to prevent damage from flooding. Most of the pathways for motor vehicles (primarily motorcycles) are narrow and winding through fields of agriculture.
According to a local Thai resident, about 80% of the people living on Ko Klang are Muslim, and the other 20% are Buddhist, so there is a mix of both cultures on the island. There are both temples and mosques, as well as a variety of foods seen in both cultures. Often, this food is mixed into spicy dishes that are enjoyable by all.
Ko Klang also has a fascinating variety of plants growing and blooming in every direction. Some of them are for agricultural purposes, and others are just for decoration of the homes on the island, most of which are very modest and cozy.
Bonus: Before you depart from the mainland to visit some of the islands surrounding Krabi Town, it is highly advisable to check out the food on the mainland. Like the islands, most of the local cuisine is colorful and vibrant - nearly every Thai dish, with or without seafood, is packed full of flavor and spice.