Tasty "street food" desserts in Thailand
There is absolutely contest to the fact that Thai people love dessert.
There is absolutely contest to the fact that Thai people love dessert. As a result, it is quite easy to find a variety of sweets sold on the streets anywhere in the Kingdom, even outside of the night markets and bazaars.
Though there are many to choose from, the availability of different desserts being made on the streets depends on a lot of different factors, particularly the season. Here are a few favorites:
Lod Chong
Lod Chong is one of the more colorful desserts that are sold by vendors on the street in Thailand, most commonly in the packed food markets that are open late at night. The pudding-like treat is easy to spot by its bright green color.
To find out what this dessert means, we can look to the origin of the words. In the Thai language, 'lod' means 'through' and 'chong' means 'hole', and the manufacturing process involves the pressing of a custard through a hole using a "lodchong press". The custard itself is made from rice and mungbean flours, limestone water, and pandan.
Once it is done being made, it's most commonly served on the street in bowls of ice, topped with coconut cream and jasmine.
Cha Nom Yen
Cha Nom Yen, also known as "cold milk tea" is a must-try Thai street dessert, and a quite simple one, as well. It's made of black tea mixed with condensed milk, and often contains a lot of sugar. It's made warm first, then mixed with the milk product, and poured over crushed ice.
Many people enjoy adding bubbles, or pearls, to the cha nom. In either case, it's delicious and a refreshing beverage for cooling off on a hot day.
Pathong Ko
A personal favorite, pathong ko is a Chinese donut that is very common to find being fried on the streets of Thailand.
It is quite simple- just a small piece of deep-fried dough that is usually served with milk, be it coconut, soy, or "regular" dairy milk. Some people enjoy putting sugar on top, but this is one dessert that I'd recommend trying without the additional sweetener first.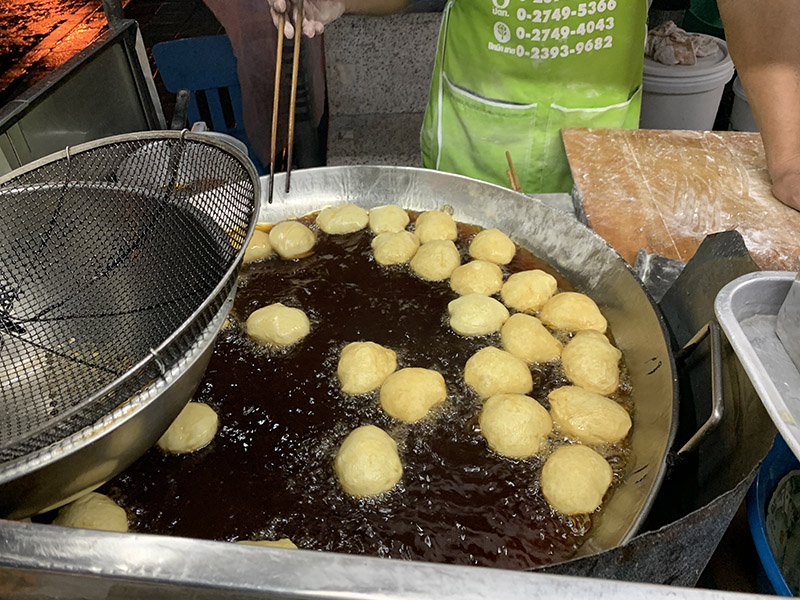 Tao Huai
Tao Huai, though it served hot and tastes a bit more medicinal than not, is actually a common dessert found on the street in Thailand. The base is a hot, peppery ginger soup served with large slices of very soft tofu inside.
If you want to really spice it up, many vendors will also add small balls of sesame into the soup for you. Most often, you'll find that this dessert is served with a side of crunchy, deep-friend dough for sprinkling on the top.
7-Eleven
No matter which direction you walk in when you visit Thailand, it won't take long to come upon a 7-Eleven. There are approximately 12,000 shops in Thailand alone, and many of them are located on opposite ends of the same block.
That said, there is no doubting the reality that everyone— Thai people and tourists alike— enjoy a sweet treat from 7-Eleven on a hot day. The offerings inside of the stores are vast and chilled to perfection. The ice cream selection at any 7-Eleven store is consistent and cheap, so it's super easy to find something you like.
To make it uniquely Thai, the ice cream selection at 7-Eleven changes seasonally. Depending on when you visit, you will see everything from taro to durian to mangosteen, frozen and cheap.