East Bangkok's "Hidden" Train Night Market
Many guidebooks and online forums make mention of Bangkok's colorful night markets.
Many guidebooks and online forums make mention of Bangkok's colorful night markets. On any given night, they are easy to find in just about every neighborhood around the city. They come in various sizes, and each of them has a different energy to it.
There are a few markets known for their appeal to tourists, amongst them being the infamous Chatuchak market and the night "train market" at Ratchada. Unbeknownst to the mainstream tourism sector until the last few years, though, it is actually another "talad rod fai," which in the Thai language means "train market," and it is in an entirely different district of Bangkok.
Located on the east side, just off of the very busy Srinakarin Road is the another "branch" of the famous train night market at Ratchada. Though it is similar to the one on Ratchada, it has a character of its own.
The neighborhood that the market was built in still does not have access to the public train system in Bangkok. So, for many years the market was actually a small local market, just like the thousands of other neighborhood markets you'll find speckled throughout Thailand. However, as Srinakarin Road has grown, the market grew with it, and over the last few years, it has become more of a tourist attraction than ever before.
Known for its food, live music, bars, and street food-style restaurants, the Train Night Market Srinakarin is a lot more breathable than it's sister market in Ratchada. The footpaths in Srinakarin between the vendors are much broader, which makes shopping a lot more comfortable. Because of the market's current accessibility, the only public transportation stopping at it is the local bus, so there are usually fewer people at this market on any given weekend night than at its counterpart.
One fascinating observation is the dichotomy between the primary, "Thai style" market in the front and the section in the back- which is a village of antique and vintage stores.
The stores in the back sell everything from furniture to vintage clothing, as well as old-school toys, records, and video games. There is really no way you could see everything in this part of the market in just one visit, so it is advisable to come early to give yourself plenty of time to browse the maze of personal collections that vendors have put on display for sale.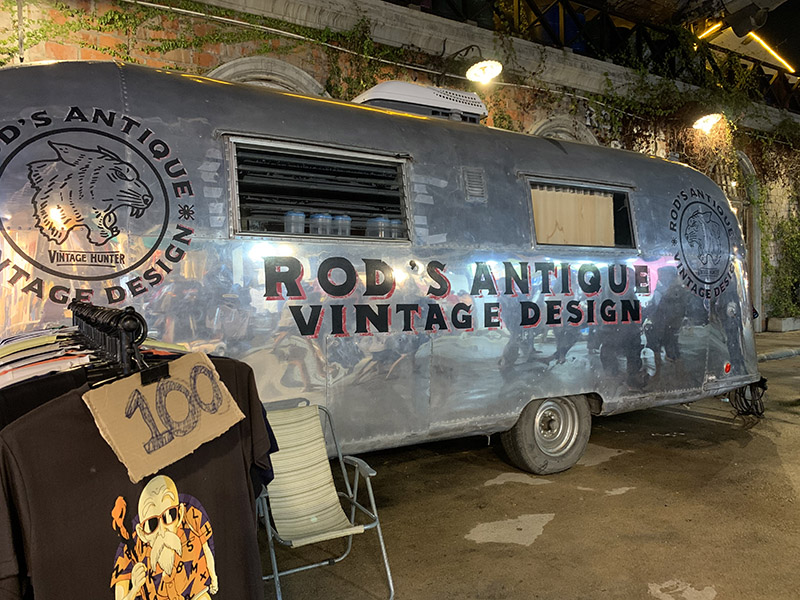 Bonus: Roti
The roti (also called "rotee") at this market is one of the best on this side of the city. Hot, cheap, fast, and full of sugar- it is a perfect handheld snack to munch on while you walk through the seemingly endless aisles of mobile phone cases, artwork, cover bands, and clothing for sale at unbeatable prices in department stores.